Every winter, there are dozens upon dozens of interesting player moves, and as we've done in the past (2018-19, 2019-20) we're going to catalog all of them here, in a giant running list. (All of the Major League signings and trades, anyway, from players who have already been Major Leaguers. Even we're not going to get into every non-roster invite or one-year flyer on a veteran reliever or new Minor Leaguer getting a big league deal. Sorry, Sam McWilliams.) So keep this bookmarked, because new moves will appear at the top, as they happen, with analysis by MLB.com writers. Off we go …
Jan. 27, 2021: Mets trade P Steven Matz to Blue Jays
Mets receive P Sean Reid-Foley, P Yennsy Diaz and P Josh Winckowski
Matz was due to make $5.2 million in 2021, and the Blue Jays are reportedly taking on all of it, which — no disrespect to the three players coming back, two of whom have Major League experience — is what this trade is about. This means that the Mets are extremely likely to pop up in the next few days with a press release touting that they've added Trevor Bauer, or Jackie Bradley Jr., or something along those lines. It's also a reflection that Matz had reached the end of the line with his hometown team. You might remember the long-ago 2015 headlines touting a rotation full of Jacob deGrom, Matt Harvey, Noah Syndergaard and Matz; you might also remember the series of arm troubles and the fact that he just hasn't been that good, with a 4.83 ERA over the last four years. Either way, they have Joey Lucchesi now, who can do a lot of the same things.
As for the Blue Jays, part of this is freeing up a pair of 40-man roster spots, which they needed to do in order to finalize Marcus Semien's contract. Plus, they now have another veteran starter to throw into the depth grab bag of Robbie Ray, Tanner Roark and Ross Stripling behind ace Hyun Jin Ryu and fireballing prospect Nate Pearson. Depth is good, we suppose. But this was — and is — a team that really needed another top arm, not a back-end lefty who seems a supremely poor fit against the righty mashers of the Yankees, or in Fenway Park. Perhaps he, like Tyler Chatwood, another talented if frustrating starter, is headed to the bullpen. They'll still need another starter. — Mike Petriello
Jan. 26, 2021: Twins sign SS Andrelton Simmons
One year, $10.5 million
Jorge Polanco, Minnesota's shortstop for most of the last five seasons, has never been a terribly well-regarded defender — in 2019, he was rated as the weakest shortstop in baseball at minus-16 Outs Above Average — but since his bat was generally a plus, the Twins were willing to see if he could improve the glove. In 2020, the bat took a step backwards (after a 117 wRC+ in 2018-'19, it was only 80 in 2020) and the glove didn't improve enough, so in 2021, Polanco is going to be replaced by one of the pre-eminent defenders of the generation in the four-time Gold Glover, Simmons. That will push Polanco to second, where his limited arm plays better, and incumbent second baseman Luis Arraez to the utility role he played in 2019. We like Arraez better as a player, but there's enough playing time to go around, especially since Josh Donaldson's durability isn't likely to improve as he ages.
Not that Simmons is without his own questions, of course. An ankle injury hampered him in 2020, and he's got all of a .362 SLG over the last two seasons. But he's only 31, and the commitment is for a single year. (Which perhaps lines up with top shortstop prospect Royce Lewis' timeline.) On a team full of mashers like the Twins, you feel fine putting him 8th in the lineup and letting him gobble up balls Polanco couldn't get to. While it's difficult to expect Simmons, Donaldson, and Byron Buxton to all be healthy at the same time, given their histories, just imagine the days they're all out there. Imagine seeing a batted ball hit the ground. Imagine how happy the Twins pitchers must be. — Mike Petriello
Jan. 26, 2021: Blue Jays sign IF Marcus Semien
One year, $18 million
In 2019, Semien hit 33 homers and finished third in the AL MVP voting, a career year that would have earned him a huge free agent contract had he hit the market one year earlier. Instead, a down-seeming 2020, in part due to a side injury, left him with a mere one-year deal. (Depending on how you look at it; while he was 7% below average in the regular season, a strong postseason left him with an above-average full 2020, should you choose to look at it that way.) So he has that in his favor, but the Statcast fielding metrics have viewed him as a regularly below-average shortstop for the last few seasons.
That won't be an issue in Toronto, which has Bo Bichette at shortstop, as Semien is likely to play second base, moving Cavan Biggio over to third. Write all that in pencil, of course, as the Jays infield is likely to be full of moving pieces, since Biggio can also play some outfield, Vladimir Guerrero Jr. is a first baseman who'd like to play some third, and even just having another capable shortstop is a good thing since last year they had to use Santiago Espinal and Joe Panik after Bichette injured his knee. With Semien in place, the lineup is complete, and it's a good one; you might imagine a top seven that goes something like George Springer / Biggio / Bichette / Teoscar Hernández / Guerrero / Lourdes Gurriel Jr. / Semien, and that's tough to beat. Toronto fans ought to be doing backflips.
What it doesn't do, however, is upgrade the rotation, which still has plenty of questions beyond Hyun Jin Ryu, who has never been known for durability anyway. Presumably, there's another move yet left in the tank. They'll need one if they want to draw even with the Yankees. — Mike Petriello
Jan. 26, 2021: Orioles sign SS Freddy Galvis
One year, $1.5 million
Last winter, Baltimore went out and acquired a reliable defensive shortstop who had just been with the Reds, and that worked out pretty well; José Iglesias had a career year for the O's, and then brought back a pair of pitching prospects when he was traded to the Angels. Galvis might not provide the same, but he's been one of the better fielders at the six over the last few years, and that's important on a team with a young pitching staff that's unlikely to miss many bats. As far as the bat goes, well, he's a good defender. That's a little unfair, really — he does have four double-digit homer seasons, so he can run into one every now and then — but difficulties in getting on base have left him with a career .291 OBP and generally makes him 10-15% below average overall, as a hitter. Then again, for one year and $1.5 million, he's worth the deal so long as he catches what's hit to him. He will. — Mike Petriello
Jan. 26, 2021: Phillies sign C J.T. Realmuto
Five years, $115.5 million (per source)
As the rest of the NL East worked to import talent — Francisco Lindor, Carlos Carrasco, Trevor May, James McCann, Charlie Morton, Drew Smyly, Josh Bell, Jon Lester, Brad Hand, Kyle Schwarber and so on — the Phillies just hadn't done all that much, outside of a few small moves to change over what had been a truly awful bullpen. But all along we figured, well, you don't bring in an executive like Dave Dombrowski to stand still, and finally, the Phillies have made the big splash that fans were clamoring for. We say that not just because Realmuto was very productive in two years in town — a 113 wRC+ and 7.5 WAR to go with 36 homers and solid defense — but because they watched Sixto Sánchez, who was traded to Miami for Realmuto, blossom in their own division.
Realmuto is either the best catcher in baseball or 1A alongside Yasmani Grandal; either way, he's an irreplaceable piece on a good team. (Seriously, if they had not signed him, the remaining free-agent options would be Tyler Flowers or to convince Yadier Molina to leave St. Louis, or just go with backup Andrew Knapp.) Since the contract reportedly has no opt-outs or buyouts, he'll be there for the next five years barring a trade, covering his age 30-34 seasons. As we investigated earlier this winter, that's a strong bet for a catcher of his age (he'll be 30 in March), and Realmuto gets to say he breaks some records along the way; the average annual value ever so slightly tops Joe Mauer's previous catcher record, and the total value is considerably larger than the previous record contract for a free-agent catcher, Brian McCann's $85 million.
This was, to put it simply, a deal the Phillies needed to make, not only for the sake of their fans, but for the sake of competing in the NL East, which they need to do given the timelines of Bryce Harper, Aaron Nola and Rhys Hoskins. They still might not be better than the fourth-best team, and you imagine they'll go find a shortstop and more pitching at some point; maybe a center fielder, too. There's still a ton of holes here. For one day, at least, the Phillies have made noise in the offseason. — Mike Petriello
Jan. 26, 2021: Indians sign 2B Cesar Hernandez
One year, $5 million (per source)
Cleveland's most notable moves this offseason had been subtractions, including Francisco Lindor and Carlos Carrasco (traded), Brad Hand (option declined) and Carlos Santana (left as a free agent). Even so, the club brings back the reigning American League Cy Young Award winner (Shane Bieber) — among a group of intriguing young pitchers — and the AL MVP Award runner-up (José Ramírez). There's enough to work with here that Cleveland can still reasonably hope to contend, and in that context, re-signing Hernandez could be big.
Hernandez has quietly been a stellar performer over the past five seasons. With on-base ability, speed, a bit of pop and solid defense at second, Hernandez's 13.0 FanGraphs WAR since 2016 puts him sixth among primary second basemen. After signing with Cleveland a year ago, he hit .283/.355/.408 (110 wRC+) and ranked second to Ramírez among Cleveland position players with 1.9 WAR.
In addition to putting an experienced, effective bat back at the top of the lineup for a reasonable price, this move also gives Cleveland more flexibility with Amed Rosario and Andrés Giménez, two key pieces in the Lindor trade. If Rosario begins 2021 as the starting shortstop, Giménez could gain more seasoning in the Minors. Conversely, the club could put Giménez at short and try Rosario in the outfield, where it still desperately needs reinforcements. — Andrew Simon
Jan. 25, 2021: Yankees trade P Adam Ottavino to Red Sox for player to be named later
Red Sox also receive Minor League prospect Frank German
Any time the Yankees and Red Sox match up on a trade, it's a notable event, since the last two times it happened were in 2014 and 1997. It's even more interesting in this case, because Ottavino is a native of New York City (specifically Brooklyn) who went to college in Boston (specifically Northeastern). This one gets even better, because look at the details of the trade as laid out above: Boston didn't deal a prospect for a veteran. They get the prospect and the veteran.
That tells you a lot about how desperate the Red Sox are to reinforce their historically-dreadful 2020 bullpen, and also about how the Yankees wanted to move some money to stay under the Competitive Balance Tax limit, presumably in an attempt to bring back Brett Gardner or another lefty hitter like him. As for how much Ottavino can help Boston, that's a matter of how you choose to look at it. His 5.89 ERA in 2020 stands out, but much of that comes from a dreadful six-run day in Buffalo, because if you take away that one single game, his ERA was 2.98. That's probably not right either; he's more of a mid-threes kind of guy, as almost all of the ERA estimators agree. (FIP says 3.52, xERA suggests 3.75, and DRA checks in at 3.35.)
While he's now and forever going to have trouble limiting walks — such is the nature of a slider with incredible movement that is attempting to get swings, not called strikes — he might already be the second-best Red Sox reliever behind Matt Barnes. Whether that says more about his skills or the state of Boston's bullpen is up to you, though it's fair to wonder if "spending money on a reliever who helps you" outweighs "helping your hated rivals put their money to use on other needs." — Mike Petriello
Jan. 24, 2021: Nationals sign P Brad Hand
One year, $10.5 million
Three months after Cleveland decided not to pick up the reasonable-seeming $10 million 2021 option for Hand, and after none of the other 29 teams decided to claim him off waivers, Hand signed with the Nationals for .. $10.5 million. That sure took a lot of time to get to the same place, and it might reflect some difficulty in trying to figure out what kind of pitcher Hand will be. On one … we're sorry …. hand, he just allowed a mere five earned runs in 22 innings, striking out 29 against only four walks, continuing a five-year run that's shown him to be one of baseball's very best relievers. (Since the Padres moved him into the bullpen in 2016, only one reliever has more strikeouts.)
But on the other … uh … side of the argument, there's some deeply concerning measures that give you pause for the future. From 2016-18, his ground-ball rate was 46.2%; in 2019-20, it was 26.6%. His swinging strike rate was the lowest it had been in his five years as a reliever; his slider velocity was under 80 mph for the first time in his career. And his fastball? It's doing this: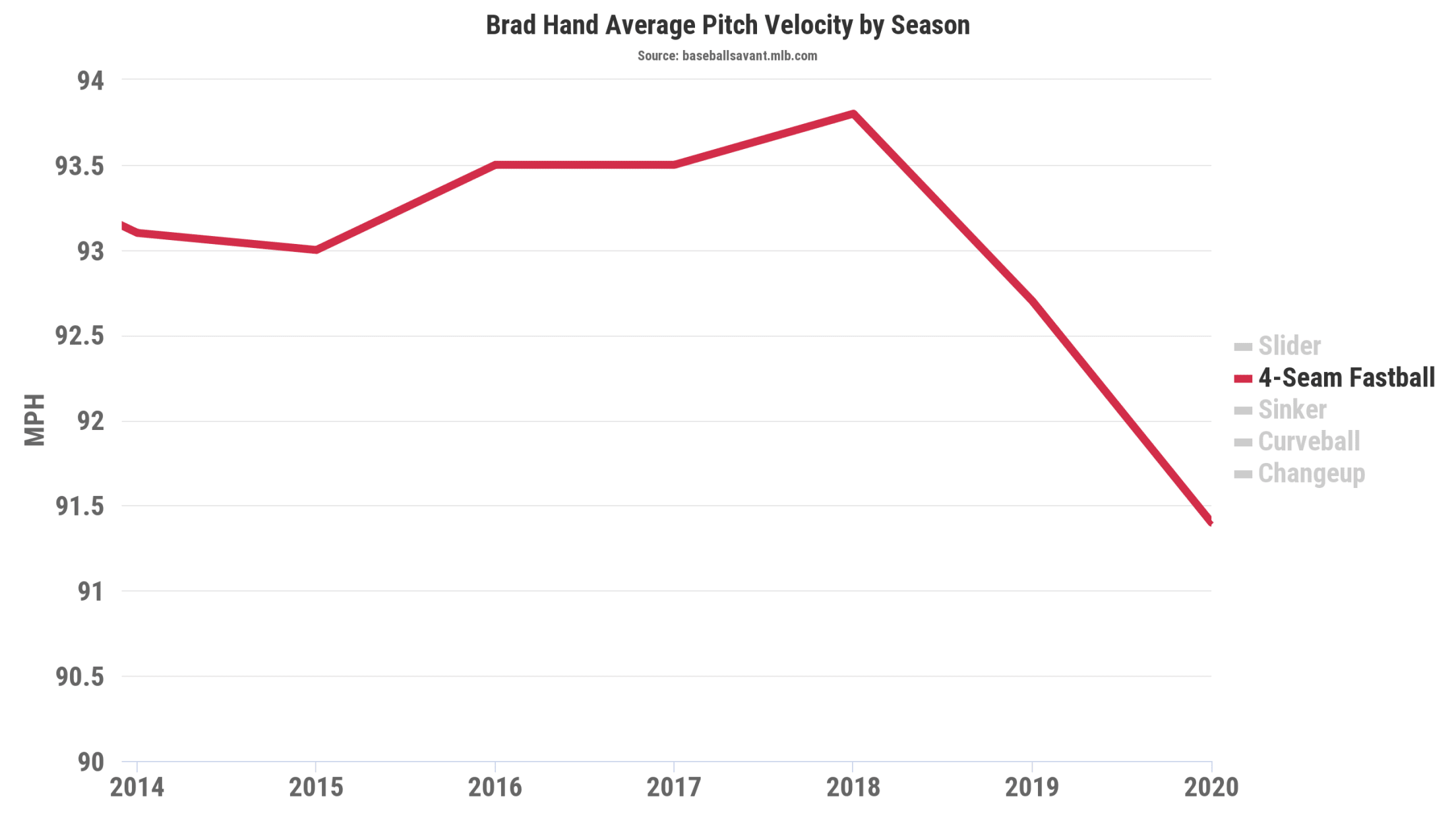 None of which is to say that Hand can't or won't be an effective reliever in 2021; we think he will be. That's good news for a Washington bullpen in a (seemingly) post-Sean Doolittle world, because putting Hand with Tanner Rainey, Daniel Hudson and Will Harris is a nice start. Like with Josh Bell, Jon Lester and Kyle Schwarber, the Nats keep adding short-term useful veteran pieces in an attempt to make another run to the playoffs in the final year of Max Scherzer's contract. This is an upgrade. But if it was surprising that no one wanted to claim Hand from Cleveland back in October, it's also not that surprising that no one wanted to commit multiple years, either. — Mike Petriello
Jan. 24, 2021: Pirates trade P Jameson Taillon to Yankees
Pirates receive four Minor League prospects
In 2018, Jameson Taillon had the kind of season that started to make it look like maybe his position as the No. 2 overall pick in the 2010 Draft — between Bryce Harper and Manny Machado — wouldn't be seen as quite so much of an error. Taillon threw 191 innings, with a 3.20 ERA, and at 26, it seemed like he was ready to take off. Of course, you know what happened next; a month into the 2019 season, he injured his elbow, and the resulting Tommy John surgery caused him to miss all of 2020, as well, so when he throws his first pitch for the Yankees in 2021, it will have been nearly two full years since he last appeared on a mound.
That's a not-inconsiderable risk for the Yankees to take, but, well, let's quote ourselves from below, back when the Yankees signed Corey Kluber to go with Gerrit Cole.
With Luis Severino (Tommy John) and Domingo Germán (domestic violence suspension) having each missed 2020, and with Deivi Garcia being all of 21 years old, and with Clarke Schmidt having exactly one Major League start under his belt, and with Jordan Montgomery and Michael King being more back-end options than no-doubt members of the rotation, well, you get the idea. The Yankees needed help. They probably still do.
So, is Taillon that help? If he's healthy, it seems reasonable to believe he's a 3- to 4-WAR pitcher with some as-yet-untapped upside, and having just turned 29 years old in November, he's hardly too old to get to it. If the Yankees weren't going to sign Trevor Bauer — and it seems like they were not — then it's not like any of the remaining free agent starters, the Jake Odorizzi/Taijuan Walker/Mike Fiers class, were clearly better bets than a gamble on Taillon, unless you simply preferred the return of Masahiro Tanaka, and Taillon's limited salary might spur them to go get the lefty bat or solid reliever they could still use. As they did with Kluber, they're betting on upside, not reliability. How those two fare this season might have a lot to say about how far the Yankees go.
As for the Pirates? No Josh Bell, no Joe Musgrove, no Taillon. The 2021 team was never going to be good; that certainly has not changed with these moves. That said, GM Ben Cherington has acquired nearly a dozen players for that trio, so if any of those hit, then maybe the rebuild has been accelerated ever so slightly. — Mike Petriello
Jan. 23, 2021: Red Sox sign UT Enrique Hernández and P Garrett Richards
Two years, $14 million for Hernández
One year, $10 million for Richards, with a 2022 option
If you get bonus points for being a fun and engaging clubhouse presence, then Hernández certainly scores those, as he's long been one of baseball's most entertaining players. And in the six seasons since the Dodgers acquired him from the Marlins in the Dee Gordon trade, he's also earned a reputation as one of the most versatile players in the game, getting into at least a dozen games at each of the non-pitcher/catcher positions on the field; throw in the fact that he's long been very strong against lefty pitching (.820 career OPS), even if his work against righties leaves a lot to be desired (.673 career OPS), and you can see why he was such an important part of six consecutive NL West division champs.
If that's the role he fills in Boston, essentially replacing Brock Holt, then that's fine. But we're a little less excited about it if he's in town to become the new starting second baseman, which seems possible because the Sox don't really have a second baseman. That's because his career OPS+ is 98, or basically league average, and that's exactly what it's been over the last three years, too. But that's with him mostly getting plenty of targeted plate appearances against lefties, and so a more regular role against righties may not be putting him in the best positions to succeed. He's also a a decent fielder, though not an elite one, so how Boston chooses to use him will have a lot to say about how this works out.
As for Richards, he once looked like a true breakout star back in 2014-'15, when he posted a 3.18 ERA over 376 innings, but he's been endlessly plagued by injuries since, tossing just 198 2/3 innings for the Angels and Padres over the last five seasons. He did, to be fair, manage to stay whole for all of the shortened 2020 with San Diego, and even after all of the injuries, the appeal remains obvious — a quick look at his Statcast page reveals truly elite fastball and curveball spin rates, to go with velocity that still averages 95.1 MPH on the heater.
It's probably not fair to ever expect that 2014-'15 version to return, or for him to give you 32 starts and 200 innings. Then again, the Red Sox have so many questions in their rotation — when will Chris Sale be back, what will Eduardo Rodriguez look like after his bout with COVID-19, what will you get out of Martín Pérez and Nathan Eovaldi, etc. — that even if a good outcome here is something like "80 league average-innings," then those are innings the 2021 Red Sox could badly use.
These are both — as were previous deals for Pérez and Matt Andriese — depth moves, not the kind of exciting big-ticket signings that will vault the Red Sox back into contention. Then again, you saw the 2020 roster, right? Depth is important. Depth is good. This team is better now than they were a week ago. — Mike Petriello
Jan. 22, 2021: Padres sign IF/OF Jurickson Profar
Three years, $21 million
Finally, those quiet San Diego Padres get their offseason moving. Adding Profar isn't quite going to have the impact as adding Blake Snell, or Yu Darvish, or Joe Musgrove, but as he did in 2020, he'll serve a valuable role off the bench. After a pair of 20-homer seasons in 2018 (Texas) and 2019 (Oakland), the switch-hitting Profar posted a 113 OPS+ for the Padres, seeing time at five positions but spending much of his time filling in at left field when Tommy Pham was unavailable. With Ha-Seong Kim and Jake Cronenworth in the mix as well, it's not entirely clear where Profar will see his time if Pham is healthy, but that's also sort of the point. No matter what happens, who underperforms or gets injured, the Padres will have options. All the best teams do. — Mike Petriello
Jan. 22, 2021: Marlins sign P Anthony Bass
Two years, $5 million, with a 2023 club option
After parts of five seasons with the Padres and Rangers from 2011 through '15, Bass spent 2016 for the Hokkaido Nippon-Ham Fighters in Japan. When he returned in 2017 on a Minor League deal with the Rangers, it continued what's been a wild ride through baseball, which saw him go through the organizations of the Cubs (2018), Reds and Mariners (2019) , and Blue Jays (2020), which makes the idea that he's managed a multi-year deal with the Marlins somewhat surprising.
It's not that Bass isn't useful, of course. Last year, his 62.3% groundball rate was fourth-best among pitchers who threw at least 20 innings, and he's come to increasingly rely upon a slider that allowed a mere six hits in 2020. He doesn't stand out in terms of missing bats or avoiding walks, and his career hard-hit rate is almost identical to the Major League average. This is more about adding a competent veteran reliever to a young pen that could surely use one or three or five of them, because there's no such thing as too many relievers. — Mike Petriello
Jan. 21, 2021: Astros sign OF Michael Brantley and C Jason Castro
Two years, $32 million for Brantley
Two years, $7 million for Castro
After a brief moment where it appeared Brantley had decided to join Springer in Toronto, he surprised everyone by agreeing to return to the Astros on a two-year deal. Brantley lived up to expectations and then some in two seasons in Houston, posting identical OPS+ marks of 126 and 126, following the 124 mark he put up with Cleveland in 2018, so it's not hard to know what to expect as he turns 34. He'll be about 25% above average as a hitter, hitting at or near .300, striking out less than league average and playing decent enough defense in left field. It's actually a lot more important for the Astros to get him than it would have been for the Blue Jays, because while Toronto has too many outfielders, Houston doesn't have enough. It still doesn't really; Brantley in left and Kyle Tucker in right is a nice combo, but center field is vacant. Jackie Bradley Jr., anyone?
Meanwhile, the Astros also added another 34-year-old veteran on a two-year deal, but in Castro, who split 2020 between the Angels and Padres, it's someone they're a lot more familiar with. Castro was the 10th overall pick way back in 2008 and got into 617 games for the team between 2010 and 2016, posting a somewhat-below-average-but-fine-for-a-catcher 93 OPS+. He's been around for so long that he was part of the "Before Times Astros," since at the time of his Major League debut — in a game that featured Roy Oswalt starting against Tim Lincecum — the Astros wore red and were in the National League. As a lefty catcher and a solid framer, he'll pair nicely with Martín Maldonado — Mike Petriello
Jan. 20, 2021: Blue Jays sign OF George Springer, P Kirby Yates and P Tyler Chatwood
Six years, $150 million for Springer
One year, $5.5 million for Yates
One year, $3 million for Chatwood
These have all been reported over the past few days, but let's round them all up here because the Blue Jays are making some moves. The big get here is obviously Springer, who is a legitimate superstar and has been for years now. Between 2015, his first full season, and 2020, he's been one of the 20 or so best players in the game, posting a hitting line of .274/.363/.494 (132 OPS+) with solid defense in both center and right, and a litany of postseason heroics. Since he's been consistently above average every single year — living up to that No. 11 overall pick in the 2011 MLB Draft status — he's largely been able to avoid the sign-stealing scandal. (That the Blue Jays are happy to give him $150 million should say a lot about that, too.)
In addition, though he's not an elite defender in center, he's a solid enough one, and that's important given that the 2020 Blue Jays had baseball's weakest outfield defense. Is Springer, who turned 31 in September, going to man center field for Toronto for the next six years? No, of course not. But he doesn't need to, either. In 2021 and '22, he, Teoscar Hernández and Lourdes Gurriel Jr. can form one of baseball's best-hitting outfields. After that, he can move to a corner. The Blue Jays promised a splash, and they made one. It's probably not enough, right now, to catch up to the Yankees, not with the considerable questions in the rotation and the lack of a third baseman (sorry, Vlad Jr., we're not buying it). But there were few players who would make such an impact as Springer, on and off the field. It's a good day in Canada.
In addition, they did add a pair of interesting pitchers, though neither the top-level starter they really need. Chatwood's three-year deal with the Cubs was a whirlwind of ups and downs mostly revolving around his inability to throw strikes. While he has history both in the rotation and in relief, he's likely to work out of the bullpen for the Blue Jays, perhaps in a multiple-inning role. As for Yates, a year ago, he was coming off of one of the most impressive seasons in recent pitching history, having struck out 101 hitters while walking only 13 and allowing just eight earned runs in 60 2/3 innings. Had he not undergone elbow surgery after just six appearances in 2020, he'd have been in line for something much larger, despite the fact that he'll be 34 in March. With former closer Ken Giles both injured and a free agent, there's a clear path to the ninth inning here, and potential tremendous upside if he's healthy.
There are, to be clear, still considerable questions around the 2021 Blue Jays, not limited to the one as simple as "where will they play home games?" But with the Rays having shed their best pitchers and the young Toronto hitting core ready to shine, this is obviously a contending team — if, for now, one still clearly behind the Yankees in the AL East. — Mike Petriello
Jan. 19, 2021: Angels sign P José Quintana
One year, $8 million
This is fine. That's neither a positive nor a negative reaction, it's simply the truth: It's fine. The Angels are on a never-ending search for pitching to help get Mike Trout into the playoffs, and there's no such thing as a bad one-year deal. It's important to remember that from 2013-17, Quintana was one of the best (and most underrated) pitchers in the game, posting four straight 200-inning seasons and ending up with the sixth-most Wins Above Replacement in that time. That's what spurred the Cubs to give up four prospects, including Eloy Jiménez, to acquire him in 2017, but the success he had on the South Side didn't follow him to Wrigleyville. In 2018-19, he had a 4.35 ERA, and in 2020, he barely pitched at all due to injury.
That's why he's signing for just one year, and he's not likely to be the difference between the Angels making the playoffs or not. But for a team that never seems to have enough pitching depth, a one-year deal for a mid-rotation starter makes sense enough. It's fine. — Mike Petriello
Jan. 18, 2021: Nationals sign P Jon Lester
One year, $5 million, with a mutual 2022 option
The Nationals have a potentially high-end top three in Max Scherzer, Stephen Strasburg and Patrick Corbin, though they're all at least 31, and Strasburg pitched only five innings in 2020 due to a carpal tunnel problem. With Aníbal Sánchez a free agent, Wil Crowe off to Pittsburgh in the Josh Bell trade, Joe Ross having elected not to pitch in 2020, and Erick Fedde having a career 5.37 ERA as a starter, Washington pretty clearly needed some back-end rotation depth.
Enter Lester, who arrived in Chicago in 2015 and did exactly what he was supposed to do, which was to provide a top-end option that would help the Cubs break their century-long curse. He did just that, finishing second in the NL Cy Young balloting in 2016 as the Cubs took the World Series, and he was an All-Star as recently as 2018. Of course, Lester is 37 years old now, having posted a 4.64 ERA in 2019-20, and the velocity drop is pretty stark:
He'll be the fourth or fifth starter so it's totally fine, but also I don't think this Lester velocity chart is turning around pic.twitter.com/prhvVwBBtj

— Mike Petriello (@mike_petriello) January 19, 2021
Last year's 15.8% strikeout rate was the lowest of his career, at the same time as his 1.62 HR/9 was the highest of his career. Were we to look ahead to 2021, there's four different projection systems available right now, and their ERA estimates range from 4.96 at the low end to 5.74 at the high end. It's clear the Nationals needed depth, and Lester can provide that, but it's not actually clear he's one of their five best starters right now. There's no taking back what Lester did in Chicago, and in Boston before that. It's hard to be as optimistic in Washington. — Mike Petriello
Jan. 18, 2021: Pirates trade P Joe Musgrove to Padres in three-team deal that sends P Joey Lucchesi to Mets
Pirates receive P David Bednar and four Minor Leaguers, most notably OF Hudson Head
What do you do when you've already traded for starters Yu Darvish and Blake Snell, months after having also traded for Mike Clevinger? Why, you go out and get another starter. Obviously. Musgrove goes from being Pittsburgh's ace to possibly San Diego's No. 4 or 5 starter, at least until the club goes out and trades for more pitchers.
Of course, Clevinger will miss 2021 due to Tommy John surgery, and there's more than a little uncertainty over Dinelson Lamet's own elbow issue, so it's not hard to understand why the Padres would want to continue loading up alongside Darvish, Snell, young veteran Chris Paddack and prospects MacKenzie Gore, Adrian Morejon and Ryan Weathers. Besides, Musgrove, who grew up just east of San Diego in El Cajon, Calif., and is reportedly thrilled to head back home, is popularly seen as a potential breakout candidate. Having just turned 28, he upped his strikeout rate from 21% to 33%, thanks in part to some intriguing improvements on his breaking pitches, and, well, just look at this fascinating note:
10 starters had a whiff rate of at least 50% on any specific pitch type in 2020 (min. 25 swings per pitch type).

2 starters had multiple offerings meeting this criteria: AL Cy Young Award winner Shane Bieber … and Joe Musgrove. pic.twitter.com/67WggJw2Td

— Thomas Harrigan (@HarriganMLB) January 4, 2021
It's easy to see him breaking out in 2021. It's also easy to see him not being one of the five best San Diego starters in 2022. That's how good this group is; they are currently projected to have the National League's best rotation.
Of course, this three-way trade isn't just about the Padres, because the Mets worked their way in to pick up Lucchesi, a soft-tossing lefty who throws a "churve," a hybrid change-curve that is one of baseball's oddest pitches. He may or may not be in the Mets' rotation; he was a roughly league-average arm in 56 starts for San Diego in 2018-'19, but he barely pitched at all in 2020 and had clearly been pushed out of a rotation spot in '21. He's clearly behind Jacob deGrom, Carlos Carrasco, Marcus Stroman and David Peterson in Queens for now, and it's not clear he'd beat out Steven Matz (or Seth Lugo, if he's not in the bullpen) for the fifth spot, either. At the least, he's depth, and perhaps he's a bullpen or longman option; he does at least do well against fellow lefties, who have a mere .655 OPS against him.
And as for the Pirates? Even in an NL Central absolutely no one wants to win, they were not going to be competitive in the two years Musgrove had remaining. Head is viewed as having a very high ceiling, but he and the other prospects — aside from reliever David Bednar, a Pittsburgh native who has some Major League time — might be three or four or five years from the Majors. That's the timeline the Pirates are on, or at least they hope to be on. It's going to be a long half-decade. — Mike Petriello
Jan. 15, 2021: Yankees sign P Corey Kluber
One year, $11 million (sources)
The 2021 Yankees rotation, if you're just looking at reliable pitchers with track records, looked like this: 1) Gerrit Cole. 2) ???
Maybe it still does. After all, Kluber, 35 in April, has pitched all of eight times in the last two seasons thanks to a broken arm and an oblique injury (2019) and a shoulder tear (2020), so maybe "reliable" isn't really the word you'd use here either. But with Masahiro Tanaka, James Paxton and J.A. Happ all off to free agency, and with Luis Severino (Tommy John) and Domingo Germán (domestic violence suspension) having each missed 2020, and with Deivi Garcia being all of 21 years old, and with Clarke Schmidt having exactly one Major League start under his belt, and with Jordan Montgomery and Michael King being more back-end options than no-doubt members of the rotation, well, you get the idea. The Yankees needed help. They probably still do.
That said, this is more than a worthwhile gamble on Kluber, who reportedly looked strong in a showcase earlier in January. From 2014-18, no pitcher in the American League was more valuable than Kluber, a two-time Cy Young winner. If he can merely stay healthy enough to pitch at a league-average level, then this is a fair contract. If he's more than that, if he's someone the Yankees feel confident in starting a Game 2 of a postseason series after Cole, then it's an absolute steal. (You might remember how poorly the last Game 2 starting decision went.) And if he's unable to stay healthy, if the injuries were all too much? Well, that's the risk you take. You'd rather take that risk on a pitcher who was truly among the absolute peak of the sport not all that long ago. — Mike Petriello
Jan. 15, 2021: Yankees sign IF DJ LeMahieu
Six years, $90 million (sources)
We always figured LeMahieu would find his way back to the Bronx, and even if it took a little longer than he'd hoped, that's exactly what happened. Now, we did not expect six years for a player who A) signed for just two years and $24 million two years ago and B) turns 33 in July, but that's the least important part of this here, because if we thought "four years" was a reasonable estimate, what it mostly does is allow the Yankees to stretch out the average annual value over two extra years — giving them more room to sign a pitcher this winter — and give LeMahieu security for his age-36 and age-37 years, when he wasn't likely to be getting a big contract anyway.
All that aside, LeMahieu's impact on the 2019-'20 Yankees was clear, because all he did was hit .336/.386/.536 with 36 homers while contributing defensively at three infield positions. It remains wild to think that he was not in the Opening Day lineup in 2019. Oh, and if you're worried about hitters getting shifted? LeMahieu does not get shifted:
Don't like the shift? Don't ban it. Beat it, the DJ LeMahieu way.

On the free agent hitter who hasn't been shifted against (other than two weirdo flukes, explained) in over four years ..

MORE-> https://t.co/7D70HwMeSV pic.twitter.com/AT1VaVMEyy

— Mike Petriello (@mike_petriello) November 2, 2020
Now, there's never a risk-free deal, and this one isn't either. LeMahieu's home/road splits at Yankee Stadium are even wilder than they were in Coors Field. His defensive metrics took a step back in 2020, and now there's a question of if the Yankees are locked into Gleyber Torres at shortstop, where he's below-average defensively. These are not insignificant questions. But when you can bring back a hitter who was just a Top-5 MVP finalist in each of the last two years, and who has been a Top 10 hitter in that time, you absolutely do it, and figure everything out later. The Yankees are better today than they were yesterday. A lot better. — Mike Petriello
Jan. 13, 2021: Astros sign P Pedro Báez
Two years, $12.5 million
Fourteen years ago, the Dodgers signed a strong-armed teenage infielder from the Dominican Republic and spent the next few years watching him struggle to hit while playing third base. In 2013, they gave up on the bat and moved him to the mound; by the end of the next year, he was in the Majors, and over the last seven seasons, Báez has quietly been one of the more reliable relievers in the game, if never quite a closer or a high-end option. In 355 games, he's got a 3.03 ERA; since his first full season in 2015, he's pitched the 16th-most games in baseball. If not always fun to watch — we hardly need to rehash the "he is so slow on the mound jokes" at this point — he's been perfectly useful as the third or fourth-best reliever in a bullpen.
In Houston, he might be asked to be a little more than that, at least as it currently stands, in a bullpen that's relatively young aside from Ryan Pressly. There's no such thing as "too many competent relievers," and even if there was the Astros don't have that, so this is a necessary and good addition. There is, however, one thing to worry about, and it's this: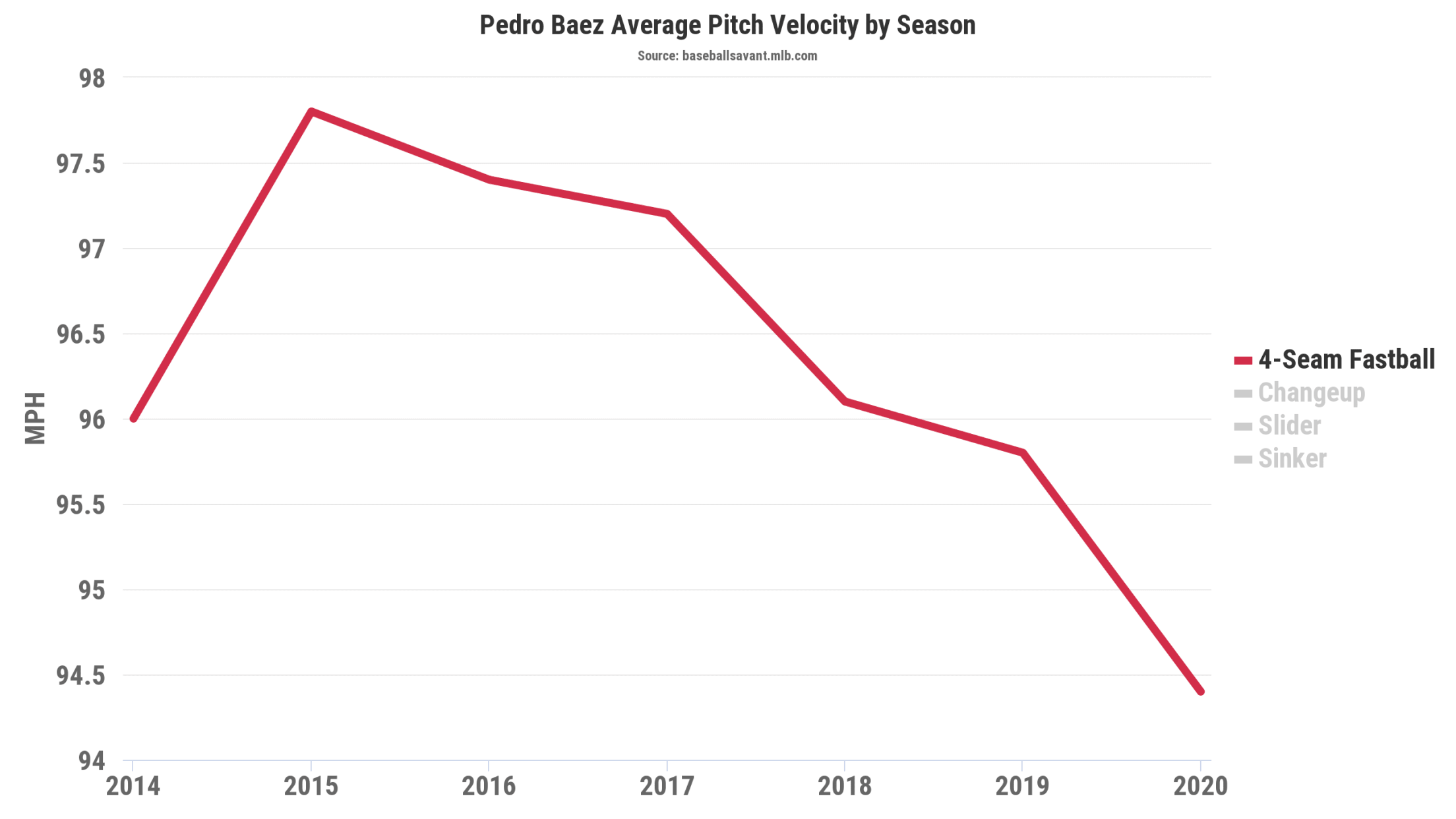 … and you might also notice that his strikeout rate dropped from its usual level of around 25% to just under 19%, a career low. It's a worry. Then again, this isn't a long-term deal, it's a two-year deal, and he's been able, so far, to compensate for that drop in velocity by throwing it higher and throwing it less, relying more on his changeup. There will come a day where that won't work anymore. The Astros are hoping that's not in 2021 or '22. — Mike Petriello
Jan. 12, 2021: White Sox sign P Liam Hendriks
Three years, $54 million (fourth-year club option does not change total)
The White Sox just reached a deal with the best reliever in baseball, so that seems like a good place to start. Over the last two years, he's thrown the most innings of any reliever, setting aside Tampa Bay's "bulk guys." At the same time, he's got the best wOBA allowed (.219) of any reliever with 30 innings. That's quality and quantity, and that's hard to match that. Hendriks matches 96 mph heat with some of the best rising action in baseball, and he uses it regularly to get ahead in the count before dropping in something with spin to put hitters away. It's worked well for him; over the last two years again, he's posted 161 strikeouts and allowed only 24 walks. He's about as sure of a bet as you can get among relievers right now.
Now, if it looks like this isn't a major upgrade over former White Sox closer Alex Colomé, who just had 12 saves and a 0.81 ERA, that's not entirely fair. Effective as Colomé was, his strikeout rate has also been on a regular decline, and it was actually below league average in 2020. He's fine. He's not a 0.81 ERA guy. He's not Hendriks, or close to it. As things stand right now, the White Sox are projected to have the second-best relief group in baseball, because it's not just about Hendriks, it's also about Aaron Bummer, Evan Marshall, Codi Heuer, Matt Foster, and Garrett Crochet, too. They've got a few starters and big bats you might have heard of, too.
We're not handing them the division yet — the Twins are still very good — but it's also not too much to say that this is one of the five best teams in baseball. It's going to be fun to watch. — Mike Petriello
Jan. 9, 2021: Nationals sign OF Kyle Schwarber
One year, $10 million
The Nationals had two of baseball's brightest stars in 2020 in shortstop Trea Turner and outfielder Juan Soto, but they were also the only two acceptable hitters in the entire lineup. Put it this way: those two, combined, hit a stellar .341/.435/.630 (1.066 OPS). Every other Nationals hitter combined, meanwhile: a wretched .245/.310/.385 (.695 OPS). That's the kind of problem where you need to round out the lineup with competent hitters as much as you need superstars, and Washington made a good first step toward improvement when it acquired first baseman Josh Bell from Pittsburgh on Christmas Eve.
The next step is adding Schwarber, who never quite reached the heights Cubs fans thought he might after his legendary 2016 World Series performance, but was still 13% above average as a hitter from 2017-'19 before being one of the many hitters who struggled in a truncated 2020. Chicago's desire to trim payroll plus Schwarber's down year and limited defensive utility led to a non-tender that placed him on the market; Washington is betting on the bat to rebound, not unreasonable given that even in 2020, his exit velocity rated in the top 5% of all hitters. He'll likely take over left field, moving Soto to right.
Due to high strikeout rates, a shift-vulnerable profile, and that weak defense, Schwarber no longer has that regular All-Star profile that Cubs fans once hoped for. But for Washington's purposes, especially on a one-year deal, he doesn't need to. He's projected to be one of the three best Nationals hitters next year; if that's not quite a high bar to clear, it's still an improvement for a team with a strong rotation and two offensive superstars that still hopes to contend in what's suddenly become a top-heavy NL East. — Mike Petriello
Jan. 7, 2021: Indians trade SS Francisco Lindor and P Carlos Carrasco to Mets for IF Amed Rosario, IF Andrés Giménez, and Minor Leaguers RHP Josh Wolf and OF Isaiah Greene
All winter, we'd been waiting for the Mets to make that long-promised big splash, the one that announced their re-entry into the big-market tier where they should have been all along, and with all due respect to Trevor May and James McCann, they're not what Mets fans had in mind.
Enter Lindor, a 27-year-old four-time All-Star who solves just so many different problems. Power? He had three straight 30-plus homer seasons from 2017-'19. Defense? He's a two-time Gold Glover who has been the third-best defensive shortstop (by Statcast measures) in the last four seasons. Star power? Well, they don't call him "Mr. Smile" for nothing. He's one of the few true superstars in the sport, piling up the third-most WAR since 2015, but even that doesn't tell the entire story. He improves the Mets' dreadful baserunning; he gives them the leadoff hitter they haven't had in years; he makes them matter. It's difficult to find a better fit of player and city and need.
It's important to remember that Lindor does not arrive solo, because Carrasco is a badly needed mid-rotation starter for a team that had Jacob deGrom, Marcus Stroman and a ton of other questions pending the return of Noah Syndergaard. From 2015-'18, Carrasco was one of the better starters in the American League, then spent much of 2019 battling a leukemia diagnosis. His return to the mound late in 2019 was one of the best moments of the season; in 2020, he gave Cleveland 12 starts with a 2.91 ERA. The Mets didn't really have a third starter you'd be comfortable rolling with in a playoff series. Now they do, for 2021 and for two more years beyond that. (This also might improve the bullpen, if it allows Seth Lugo to return to the role he's best at.)
There will obviously be questions about whether the Mets can extend Lindor, as the Dodgers did with Mookie Betts, and if this is the capper of their winter or if there's more to come. But what's for certain is that 2020's last-place finish (tied with Nationals) is completely irrelevant, coming as it did without Lindor, McCann, Stroman, or May. Entering the offseason, the Mets were projected as baseball's 10th-best roster. Right now, they're third, not terribly far behind the rareified air of the Dodgers and Padres. Last year's disaster is this year's World Series contender.
As for Cleveland, it's a reasonable enough return on strictly baseball terms; as we saw with Betts and others in recent years, trading one year of a player, no matter how valuable a star, simply doesn't generate huge returns. Giménez is only 22 and impressed in his Mets debut in 2020; Rosario is 25 and looked like he'd started to break out in 2019 (15 homers with a 101 OPS+ and improved defense); Wolf and Greene were each among the Top 10 Mets prospects.
Though they couldn't get Matthew Allan or Brett Baty — or, continuing a long-running issue, a quality Major League outfielder — the people running the Cleveland baseball operations group are well-regarded, and they've earned that distinction. The problem isn't in the deal that was made by the baseball people; it's that the baseball people had to make the deal. You don't find players like Lindor that often. When you get them, you best not let them go. Just ask Red Sox fans about that. — Mike Petriello
Jan. 5, 2021: Tigers sign OF Robbie Grossman
2 years, $10 million
It has, somehow, been five years since the last time the Tigers signed a free agent to a multi-year deal, and while Grossman won't all by himself turn the tide in Michigan, he's a reasonably useful player as a switch-hitter with no platoon splits and solid on-base skills. (He's even a better outfielder than he gets credit for, having posted +6 Outs Above Average over the last two seasons.) Grossman posted a .344 OBP in 2020, about the same as his career .350 mark; Tigers outfielders, meanwhile, posted a mere .306 mark in 2019-'20, tied for the fourth worst in baseball. Primarily a left fielder, he'll take plate appearances away from Christin Stewart, who has a career .300 OBP with very poor defense. It's an upgrade.
Grossman is not, to be clear, a star. But he's a reliably league-average hitter joining an offense that can't really count on much other than hope for continued improvement from Jeimer Candelario and whatever you think Miguel Cabrera has left in the tank. (Grossman is currently projected as the third-best Tigers hitter in 2021.) Stars are nice, but sometimes just filling the gaping problem spots with mere competency is a big deal, too. — Mike Petriello
Dec. 31, 2020: Padres sign INF Ha-Seong Kim
4 years, $28 million (source)
As the baseball world tried to absorb the Padres' flurry of big moves to wind down the calendar year — San Diego swung a deal with the Rays for former AL Cy Young Award winner Blake Snell and acquired 2020 NL Cy Young Award runner-up Yu Darvish from the Cubs on the same day — general manager A.J. Preller and company made yet another big splash when they inked Kim, a star infielder in the Korea Baseball Organization, to a four-year pact with a mutual option for 2025. The Padres must also pay a release fee of around $5 million to Kim's former team, the Kiwoom Heroes.
Kim, 25, was at the top of the free-agent market for infielders after hitting .294/.373/.493 over seven KBO seasons, playing primarily shortstop and third base during that time. Since San Diego has the left side of the infield covered with stars Fernando Tatis Jr. and Manny Machado, it is expected Kim will be deployed as a utility player defensively. The 2020 season was a big one for Kim — he slashed .306/.397/.523 with 30 home runs in 138 games for Kiwoom.
If the Snell and Darvish trades hadn't already made it abundantly clear, the Padres are serious about more than just reaching the postseason — they're intent on winning it all. — Manny Randhawa
Dec. 29, 2020: Cubs trade P Yu Darvish and C Victor Caratini to Padres
Cubs receive P Zach Davies and four Minor League prospects
Last season, the San Diego Opening Day starter was Chris Paddack, who had posted an impressive rookie season in 2019 that he would be unable to repeat in 2020. In 2021, Paddack might be San Diego's No. 4 starter, now that the Padres have added Darvish and Blake Snell to go with Dinelson Lamet ahead of Paddack and young arms Mackenzie Gore and Adrian Morejon. Even without Luis Patiño, shipped off to Tampa Bay, and even without Mike Clevinger, who is going to miss the season due to injury, this might be baseball's best rotation. It might be baseball's best team. If Lamet is healthy, they have three aces. And if they're all whole going into 2022, when Clevinger returns, they might have four.
That's the totality of what GM A.J. Preller and company have done, and it's beyond impressive, especially when you realize Darvish is even better than people give him credit for. His first season in Chicago, 2018, was an injury-plagued mess. His 2019 wasn't going much better when he carried a 5.01 ERA into the All-Star break. Since then? Among all currently-healthy pitchers to throw 100 innings since the 2019 All-Star Game, he's been one of the five best starters in baseball, wowing with 10 different — is it 11 now? — pitches. He was arguably the best pitcher in the National League in 2020. The Padres also add some catching depth in Caratini, included mostly because he's Darvish's primary catcher, but he also adds some versatility as a switch-hitter who can play first base.
The short version is this: Despite occupying the same division as the reigning champs in Los Angeles, the Padres took the opportunity to get better, and get better they did, not just for 2021, but for the next few seasons. San Diego fans are rightfully dancing in the streets.
As for the Cubs? There's no way around this one: It's a giant step back, and not for the right reasons. Chicago just had the fourth-best record in the NL — they just won the Central — and they play in a division with no actual strong teams. (At the moment, every team in the Central is projected to finish below .500. That won't actually happen, but it's an accurate reflection of the rosters.) Sure, Davies is a competent Major League pitcher; yes, the four prospects coming back will help reinforce the system, though none is likely to see Wrigley Field before 2024 or so. It's an incredibly hard fall from the heights of 2016, and one that feels like it didn't need to happen this way. — Mike Petriello
Dec. 29, 2020: Rays trade P José Alvarado to Phillies in three-team deal
Dodgers receive P Garrett Cleavinger; Rays receive Minor League IF Dillon Paulson
When you just posted the worst bullpen ERA in nearly a century, as the Phillies did, you're going to need to make some moves, and claiming pitcher Johan Quezada and Ian Hamilton off waivers aren't exactly what Philadelphia fans might have had in mind. But in Alvarado, you've at least got a hard-throwing soon-to-be-26-year-old with some measure of Major League success, even if he's most known for one single pitch in 2019 to Charlie Blackmon that did this:
99 mph shouldn't move like that. 🤯 pic.twitter.com/MHx38w33TS

— MLB (@MLB) April 3, 2019
Coming as he was off a successful 2018 (80 strikeouts in 64 innings) while routinely touching triple-digits with his moving two-seamer, it looked like Alvarado might be the next monster relief ace, but he's thrown only 39 innings over the last two seasons, as he's dealt with arm trouble, family concerns and command problems. Still, he's shown something like elite-level talent, if only briefly, and that is exactly the kind of high-upside arm the Phillies need to be gambling on right now.
Conversely, the Rays needed the 40-man spot after the Snell trade, and likely didn't want to go through the arbitration process with Alvarado given his inconsistency. The Dodgers inserted themselves to trade a low-level first baseman for an interesting lefty relief arm in Cleavinger who provides depth now. This one is mostly about the Phillies, though.— Mike Petriello
Dec. 29, 2020: Rays trade P Blake Snell to Padres
Rays receive pitchers Luis Patiño and Cole Wilcox and catchers Blake Hunt and Francisco Mejía
We knew we'd be talking about the decision to lift Snell in Game 6 of the World Series forever. We didn't think it would be the last pitch Snell ever threw for the Rays. (The decision to take him out was actually defensible; it was the choice of reliever that was Kevin Cash's true mistake.)
Instead, Snell is off to a Padres team that won the second-most games in the National League in 2020, and it is projected for the second-most WAR in baseball in 2021. The problem, in each case, is that the Padres are second to their own division rivals in Los Angeles, which hasn't failed to win the NL West since way back in 2012. That's not reason to not try, however, and give the Padres credit for doing just that — especially after their last trade for a top starter, Mike Clevinger, earned them all of four regular-season starts and one postseason inning before he hurt his elbow, requiring Tommy John surgery that will cost him all of 2021. They're almost certainly not done yet, either.
As for the type of pitcher they're getting, Snell is capable of dominance, with a caveat. He did win the 2018 AL Cy Young, and over the past four years, he's got the 12th-highest strikeout rate among qualified pitchers. But he's also thrown 130 innings just once, in that 2018 season, and he didn't get through six innings even once in 2020. Some of that, surely, is how the Rays operate their pitching staff. Some of it is because he's had injuries to his shoulder, toe and elbow over the past three seasons.
It's that lack of durability that gives him more of a "strong No. 2 than a true ace" view in our eyes, but that's really splitting hairs; he's generally very good, and paying a pitcher like that $40.8 million over the next three years is more than a little bit of a bargain. Pair him with Dinelson Lamet, Zach Davies and Chris Paddack now, and also Clevinger in 2022, plus prospects Adrian Morejon and MacKenzie Gore whenever they're ready, and it's not hard to see the Padres as true contenders to the Dodgers immediately.
Back to the Rays, well, how you view this depends entirely on how you view the entire strategy of the franchise. Patiño is a Top 25 prospect, just 21 years old and already with Major League experience. Mejía is a post-hype prospect who never really got a chance to play in San Diego, and now he's joining a Rays club that barely has any catching at all. Hunt and Wilcox are each highly regarded; while Wilcox was a third-round pick in 2020, you might view this as the Rays having collected another first-rounder, because he slipped only due to signability concerns before the Padres gave him the largest bonus for a third-rounder in history. This is a considerable return.
Tampa Bay does tend to do well in these trades, and so far as this being viewed only through a baseball filter goes, this is a plenty fair return for three seasons of a talented-yet-not-always-consistent lefty starter, and adds more talent to an already-loaded farm system. This is not a rebuild so much as a reload, and the Rays ought to be plenty interesting for years to come. Problem is, the Rays were in the World Series two months ago. (Almost to the day.) Since then, they've bid farewell to two of their top three starters, choosing not to retain Charlie Morton in addition to trading Snell. Instead of getting better to try to make it back to the World Series in 2021, they've gotten worse, choosing to focus on the medium-term future instead. If understandable, it's still more than a little disappointing. — Mike Petriello
Dec. 26, 2020: Rangers sign P Kohei Arihara
Two years, $6.2 million
We can't see any way the 2021 Rangers are going to be contenders, but let's at least give them credit for being interesting this offseason, benching longtime middle infield starters Elvis Andrus and Rougned Odor in favor of Isiah Kiner-Falefa and Nick Solak; signing outfielder David Dahl; trading for first baseman Nate Lowe; trading ace Lance Lynn to the White Sox; and naming a new general manager in Chris Young. (They also dealt reliever Rafael Montero to Seattle.) That fascinating offseason continues with the addition of Arihara, a 28-year-old who spent the last six seasons with the Hokkaido Nippon-Ham Fighters.
Arihara pitched at least 120 innings in each of those six seasons, and that's what the Rangers are looking for, because a post-Lynn rotation is more than a little thin, even with the addition of Dane Dunning in the Lynn trade. (The Opening Day starter right now might be Kyle Gibson, who had a 5.35 ERA last year.) The velocity reportedly tops out at 92, which might be a problem, but he works around that by throwing seven different pitches. Really, the fact that he signed for all of $6.2 million over two years should show you there's not elite-level upside here, though the Rangers would certainly take a reliable back-end starter if that's what he's able to provide. — Mike Petriello
Dec. 24, 2020: Pirates trade 1B Josh Bell to Nationals
Pirates receive P Wil Crowe and Minor League P Eddy Yean
It's not terribly hard to see why Washington would want to go out and acquire Bell, because A) they had a pair of superstar hitters in Juan Soto and Trea Turner surrounded by almost nothing else in 2020; B) five of the six men who played first base for them in 2020 are currently either free agents or retired; and C) with Soto and Turner supporting a talented-yet-aging rotation, they need to add talent now, not later.
Enter Bell, who failed to follow up on his breakout 37-homer 2019 season by posting a poor .226/.305/.364 (83 OPS+) follow-up in 2020. At just 28, he's surely better than that, but as we investigated recently, since most of that great 2019 was concentrated in an unsustainable first half, the likely outcome here isn't so much "All-Star slugger" as it is "solid hitter who is about 10-15% above average, with questionable defensive skills." If being something like the 15th best first baseman in baseball isn't exciting, it's also a big step up from what the Nationals had, or have. They have a third competent hitter. That matters.
As for the Pirates, this return won't be considered exciting, because Crowe will turn 27 next September and has pitched all of 8 1/3 Major League innings, and since it was barely more than a year ago that Bell was putting up that incredible first half and participating in the Home Run Derby. That's mostly a reflection of what Bell's trade value really was — it's unlikely he was getting more valuable as he reached free agency — and it might also be the first move in a wave of others to come. While Crowe might contribute immediately, the real prize here would be Yean, who is well-regarded and now slots in as Pittsburgh's No. 7 prospect, but is also only 19 years old. Check back in 2024. — Mike Petriello
Dec. 23, 2020: Dodgers sign P Tommy Kahnle
Two years, $4.2 million guaranteed
The Tommy Kahnle Experience has been an interesting one, from "Rule 5 Rockie reliever who couldn't throw strikes" to "2017 White Sox breakout arm" to "dominant Yankee reliever" to "a lost 2018 in the Minors trying to find his lost velocity" to "very good Yankee reliever in 2019" to "faced six hitters in 2020 before Tommy John surgery." It's a lot, and that's not even including his breakout performance as a gamer in the MLB The Show Players League. He's now 31 years old.
Now, let's add to that list "spending 2021 recovering for the Dodgers, who hope to get production out of him in 2022." We've seen teams do this before, paying pitchers to recover from injury in year one hoping to get value in year two — an injured Garrett Richards signing with the Padres is a good recent example — and if it works out, there's clear upside here. In 2017, Kahnle struck out 96 in 62 2/3 innings; in 2018, he whiffed 88 in 61 1/3 more, leaning in part on 97 MPH heat but also on a changeup that's become his primary pitch.
If Tommy Kahnle can make it back from Tommy John surgery, Dodgers will have a big-time bat-missing reliever in 2022.

In '19, Kahnle had a 49% whiff rate on his changeup, which generated 67 strikeouts. pic.twitter.com/m0IIjwKTxW

— Andrew Simon (@AndrewSimonMLB) December 23, 2020
It's worth noting, also, that Kenley Jansen's contract is up after 2021. So is Corey Knebel's. That 2022 bullpen might have some openings. A team like the Dodgers can certainly afford the few million to find out. — Mike Petriello
Dec. 18, 2020: Rays sign P Michael Wacha
One year, $3 million
So there's good news and bad news here. The good news is that Wacha's 23.7% strikeout rate was his highest since 2013, and his 4.5% walk rate was his lowest ever, and that there's plenty of reason to look past that ugly 6.62 ERA:
Michael Wacha had a 6.62 ERA in 2020. His expected ERA (based on quality of contact) was lower, at 4.45.

That 2.17 difference between actual ERA and xERA was the 2nd-largest among 133 pitchers to face at least 150 batters.

— Sarah Langs (@SlangsOnSports) December 18, 2020
So it's fine not to worry about "6.62," but also "4.45" isn't exactly that great, and Baseball Prospectus' ERA estimator throws a "5.15" on his 2020. Is it 6.62? It is not. Is it good? No. That's all because while the strikeouts and walks were nice, when Wacha was allowing contact, it was loud contact. In 34 innings, he allowed nine homers, one of the highest HR/9 rates in baseball; his four-seam fastball was lit up to the tune of a .400 average and a .727 slugging. While his velocity (93.6) rebounded a little from 2019's 93.0, it's still not near the 95.1 it was back in 2017.
The other side of this, of course, is that if there's any team in baseball that should get the benefit of the doubt in terms of acquiring uncertain arms and finding the value in them, it's the Rays, so there has to be something they like here. (No, it's not high spin rate; he's well below-average in both fastball and curve spin.) Either way, it's only $3 million, so it's not a big gamble.
But despite their obvious rotation need in a post-Charlie Morton world — Blake Snell, Tyler Glasnow, and Ryan Yarbrough are a talented top three, if not exactly a consistently healthy or durable one — it's pretty difficult to see them slotting Wacha in as a regular, every-fifth-day starter, because nothing in his recent history suggests he can do it. (After a very good first three years [3.21 ERA], he's got a 4.53 over the last five years.) Then again, it's the Rays. Maybe it's more likely he's a bulk reliever or "the guy who follows an opener." If anyone can find a way to get the best out of him, it's them. — Mike Petriello
Dec. 16, 2020: Giants sign P Anthony DeSclafani
One year, $6 million
DeSclafani's 2020 results — a 7.22 ERA over nine games (seven starts) — might make this seem like a questionable move. But there are reasons to be optimistic as well.
DeSclafani began the shortened season on the injured list (mild right teres major strain) and seemingly never got quite right. Plus, his 33 2/3 innings pitched pale in comparison to his more than 600 career innings entering 2020, and he posted a solid 4.13 ERA (102 ERA+) before this past season. As recently as 2019, DeSclafani threw 166 2/3 innings for the Reds, with a 3.89 ERA and almost exactly a strikeout per inning.
Throw in the fact that the Giants have enjoyed success with pitching reclamation projects over the past couple of years — see DeSclafani's former Reds teammate Kevin Gausman in 2020, for example — and it's easy to see why Giants president of baseball operations Farhan Zaidi would tell reporters that the 30-year-old, "comes with some ceiling." The Giants certainly have room in their rotation, and for a minimal investment, DeSclafani could help the club compete in 2021 or become a worthwhile trade chip at the Deadline. — Andrew Simon
Dec. 16, 2020: Rays sign C Mike Zunino
One year, $2 million
Sometimes the thinking behind a move can be opaque. Here it's pretty simple. The Rays almost literally did not have a catcher, and now they do. Before signing Zunino, the only catcher on the club's 40-man roster was Ronaldo Hernández, a 23-year-old who hasn't played above Class A. Now Tampa Bay has a legitimate big league backstop — and one with whom it's familiar and comfortable.
Zunino spent the past two seasons with the Rays, before they declined his $4.5 million option for 2021, and now re-signed him for less than half that amount. (There is also a club option for 2022, with a $1 million buyout). The good news here is that Zunino seems to have worked well with the Rays' diverse, highly successful staff, which helped carry the team to the 2020 World Series. The bad news is that the third overall pick in the 2012 Draft has hit .161/.233/.323 in two seasons with Tampa Bay, giving him the sixth-lowest wRC+ (49) among all players with 300-plus plate appearances during that time. Despite his massive power — highlighted by four postseason homers this past postseason — Zunino has struggled mightily at the plate, due in large part to a 36.2% K-rate.
The key question here is to what extent the Rays continue addressing their behind-the-plate situation. If Zunino enters 2021 as the team's primary catcher, that will severely limit the lineup's offensive upside. But if Tampa Bay can complement him with another acquisition (say, veteran lefty bat Jason Castro, a free agent) the complete picture would look quite a bit better. — Andrew Simon
Dec. 15, 2020: Rangers trade P Rafael Montero to Mariners
Seattle acquires Minor League RHP José Corniell and PTBNL
If you'd lost track of Montero after his descent from "top Mets prospect" to "struggling to stick in the bigs" to "missed 2018 with Tommy John surgery," you'd be forgiven, but you would have missed some pretty solid pitching. Montero resurfaced with the Rangers, and in 46 2/3 innings over the last two seasons, he posted a 3.09 ERA and a strong 53/11 strikeout/walk ratio. He even served some time in the closer role for the Rangers, but since the suddenly active Rangers are very far from contending and he's an arbitration-eligible, 30-year-old pitcher who suddenly has trade value again, it was not at all surprising to see him being moved.
What was a little surprising is where he got traded to, however, because Seattle doesn't seem all that closer to winning than Texas does. Then again, Mariners GM Jerry Dipoto said he'd do this back in September, almost explicitly.
"For me," Dipoto said on Sept. 28, "the focus this year going into the offseason, we're looking at the bullpen and I'd like to add three or four guys down there that can stabilize that group and give us some certainty as we move toward the end of a game."
Montero's a solid enough choice, though the free-agent market is absolutely loaded with low-cost righty relievers. Then again, while Corniell is well-regarded, he's also 17 years old. You'd be a lot more surprised if he did succeed than if he didn't. Montero isn't a game changer, but he might already be the best Seattle reliever. That's a strong move. — Mike Petriello
Dec. 14, 2020: Red Sox sign OF Hunter Renfroe
One year, $3.1 million
With Jackie Bradley Jr. a free agent and Mookie Betts, well … you know … the Red Sox had some work to do in their outfield. It's more than just who's gone, really, because while Alex Verdugo had a very successful first year at Fenway (.308/.367/.478), Andrew Benintendi followed up a just-OK 2019 with a totally lost 2020 (.103/.314/.128 in 14 games, plagued by a rib injury). Enter Renfroe, a former San Diego first-round pick who went to Tampa Bay in last winter's Tommy Pham trade, then was designated for assignment by the Rays in November after having a disappointing .156/.252/.293 line and falling behind a deep outfield group that included Kevin Kiermaier, Austin Meadows, Randy Arozarena and Manual Margot.
Renfroe is what he is, five seasons into his Major League career, which is to say he strikes out a lot (28% career K rate), he's got very good raw power (career .486 slugging), and he's a surprisingly decent outfielder with an absolute cannon of an arm. Overall, he's basically a league-average hitter (106 OPS+). That's all well and good for a one-year deal, and the Sox even retain his rights via arbitration for two more years if they'd like to have them. Problem is, Renfroe is strictly a platoon player (against lefties, he's got a .912 OPS; against righties, it's .717). Maybe that's all you're buying for three million, but it's all you should be expecting, too, which means the Red Sox have more work to do.
Renfroe also looks a heck of a lot like Mike Trout, in case you ever wanted to know what Trout would look like as a member of the Red Sox. — Mike Petriello
my god Hunter Renfroe really does look exactly like Mike Trout pic.twitter.com/2FHgtDTaWA

— Stephen (@b_outliers) October 14, 2020
Dec. 12, 2020: Mets sign C James McCann
Four years, $40.6 million
We'll say this for McCann: To go from being non-tendered by one of baseball's weakest teams to getting a four-year contract in just over two calendar years is absolutely incredible. After all, it wasn't that hard to see why the Tigers cut him loose, because in parts of five seasons in Detroit, he'd hit all of .240/.288/.366 (76 OPS+), along with very poor pitch framing. In two years with the White Sox, he was juuuust a bit better: .276/.334/.474 (114 OPS+).
That said, it's still difficult to know what to make of him going forward, which is why many had projected just a two-year deal for him. That excellent All-Star 2019 was split into a wild first half (.316/.371/.502) that sure looked a lot like it was about good fortune on balls missing fielders, and a much worse second half (.226/.281/.413) that looked very much like his Detroit years. While pitchers like Lucas Giolito raved about working with him, McCann's year didn't stop the White Sox from handing a giant contract to another catcher, Yasmani Grandal.
McCann did come back in 2020 with another very good year (.289/.360/.536), but in only 111 plate appearances. For the first time, his pitch framing was a positive, but in only 27 games started. He'd hardly be the first catcher to be something of a late bloomer, and there's some evidence that last winter he worked on framing in a way Detroit had never helped him do. In the sense of "is he an upgrade on what the Mets had behind the plate last year, even if he's just an average catcher," then yes, absolutely.
He's not J.T. Realmuto, though, or really even close to being him, and that's why this deal is difficult to evaluate without knowing how the rest of the Mets' offseason shakes out. If McCann is their third- or fourth-biggest acquisition because they spent to add George Springer in center, or Trevor Bauer or Liam Hendriks on the mound, then that makes sense enough. If those stars go elsewhere and the Mets chose to shoot lower than Realmuto behind the plate, that's going to be a problem. — Mike Petriello
Dec. 11, 2020: Rangers agree to deal with OF David Dahl
One year, $2.7 million
Two days, two bats for the Rangers, not at all surprising for a team that — as we just said below in the Nate Lowe write-up — had 2020's weakest offense. When Dahl was surprisingly non-tendered by the Rockies, another team with a below-average lineup, we didn't figure he'd be unemployed for long, and he wasn't, landing with a Texas team that should give him plenty of room to prove himself in the outfield next to Joey Gallo. If he can stay on the field, that is, which is part of why he was available in the first place; due to a seemingly endless run of injuries, he's managed to stay healthy enough to collect 300 plate appearances just once, in his All-Star season of 2019.
There's some hope that getting out of the altitude in Colorado might help Dahl stay healthy, and since we're on that note, no, don't worry about his home/road splits, because they do not tell the story for Rockies hitters that people like to think they do. Dahl was the No. 10 pick in the 2012 Draft, and in his three semi-healthy seasons, he was consistently above-average: 113 OPS+, 113 OPS+, and 110 OPS+. (That'd be 2016, 2018, and 2019.) While he's capable of playing center, you'd think he'd play left in Texas, and Rangers left fielders last year hit all of .224/.290/.304. It's not a high bar to clear. For a Rangers team that had one reliable outfielder — Gallo — it would have been a reasonable gamble at twice the price.
In case you're wondering what Dahl in Texas might look like, wonder no more. Last July, he collected the first hit in Globe Life Field history. Watch it below. — Mike Petriello
Dec. 10, 2020: Rays trade 1B Nate Lowe to Rangers
Six-player deal includes three prospects going to Tampa Bay, most prominently C/OF Heriberto Hernandez
The Rangers had 2020's weakest offense, so you figured that even in a winter when they traded away their top starter (Lance Lynn), they'd do something to help that lineup, if not just for 2021, but also for the future. No exception was first base, where they had 2020's third-weakest hitting, and parts of three seasons from Ronald Guzmán (who has a career 87 OPS+ in over 800 plate appearances) did little to convince the Rangers that he was their long-term solution. (As Jon Daniels said, "First base was an area we were very poor at last year. It was an obvious area to address.")
Enter Lowe, who hit 27 homers at three Minor League levels in 2018 and has been slightly above-average (107 OPS+) in limited time with the Rays over the last two seasons, hitting the ball hard (a very good 45% hard-hit rate) when he hits it at all (a too-high 32% strikeout rate). While he's not likely to be a star, it's not hard to like him more than Guzmán, now and for the future, so on that front: Great. The Rangers have a new starting first baseman for 2021 and, they hope, beyond.
That said, he didn't come for free. We're not going to overthink the 1.085 OPS Hernandez had at the absolute lowest levels of the Minors, but the Rays were clearly excited to get him — "Heriberto, for us, was probably the primary piece in this," general manager Erik Neander said — and FanGraphs prospect expert Eric Longenhagen referred to him as "a prospect I love," referring to a previous report of his that indicated Hernandez "might be a very special hitter." We won't know the outcome here for at least three or four seasons, but since the Rays felt they were more than covered at first base with Ji-Man Choi, Yandy Díaz, and Mike Brosseau, this was a sensible move to add prospects they liked. — Mike Petriello
Dec. 9, 2020: Mariners sign P Chris Flexen
Two years, $4.75 million, with a 2023 option
Flexen, 26, spent parts of three seasons with the Mets, and they weren't, to be charitable, good. From 2017 through '19, he tossed 68 Major League innings, with an 8.07 ERA, and more walks (54) than strikeouts (49). It was just over a year ago that the Mets designated him for assignment to sign Brad Brach, and why not? So Flexen went off to play for Doosan in Korea, and the results were … well, incredible. In 116 2/3 innings, he had a 3.01 ERA, but more importantly, he struck out more than four times as many hitters (132) as he walked (30).
How good was he? This good:
#KBO seasons with a K% higher than 28% and a FIP below 3.00 since 2002

– Ryu Hyun-jin's 2012 season at 25-years-old (28.6% and 2.45 FIP)
– Chris Flexen's 2020 at 26-years-old (28.0% and 2.74 FIP)

— Ben Howell (@benhowell71) November 28, 2020
So what happened? You might like to think that the hitting talent level in the KBO isn't quite what it is in the Majors, and that's a little true, but certainly not to this extent. It seems that Flexen threw his high-spin curveball (84th percentile in 2019) three times as often as he did with the Mets. He reportedly added a little velocity to his fastball. It seems like he was just different, in a good way. That's not to suggest he's going to be the next great Seattle pitcher, because he's probably not. (He might not even be a starter, since it remains to be seen how the Mariners will use him.) But he's considerably more interesting than a pitcher with a career 8.07 ERA ought to be. — Mike Petriello
Dec. 8, 2020: White Sox sign OF Adam Eaton
One year, $7 million, with a $8.5 million club option (or $1 million buyout) for 2022
We knew the White Sox would be adding a corner outfielder, since last year's gamble on Nomar Mazara (one home run, 64 OPS+) was a complete whiff, and we figured they'd be in an advantageous position to do so, because there's a ton of corner outfielders available, from George Springer to Joc Pederson to Kyle Schwarber to Eddie Rosario to Michael Brantley to David Dahl and on and on. So consider us more than a little surprised that they chose to reunite with Eaton, who performed well in his first stint with the club — 119 OPS+ and generally excellent defense from 2014-'16 — but is best remembered in Chicago for being part of one of the most dramatic clubhouses in recent history and then getting traded to Washington in the deal that returned Lucas Giolito, Reynaldo Lopez, and Dane Dunning, who was just traded for Lance Lynn.
That's a lot to take in, but what's most important is what Eaton, who turned 32 this week, is capable of doing in 2021. While he did help the Nationals win a ring in 2019, his four seasons there were somewhat checkered, as he reached 400 plate appearances just once. (In 2017 he injured his knee, in 2018 it was his ankle, and his 2020 ended early due to a broken finger.) All told, Eaton was roughly a league-average hitter for the Nationals (104 OPS+), and his once-outstanding defense has taken a step back to more like average. (After a spectacular +17 Outs Above Average in 2016, he was +1, -6, +1, and -1 with Washington.) Unsurprisingly, as he's aged and dealt with leg injuries, he's slowed; in 2015, he was in the 94th percentile in running speed, and in 2020, that was the 74th percentile.
Being an "average" player is not a bad thing. It's a step up from what the White Sox had last year, probably worth a win or two. But with so many other more interesting options out there with higher upside, shouldn't a win-now team be shooting a little higher? — Mike Petriello
Dec. 8, 2020: Royals sign 1B Carlos Santana
Two years, $17.5 million
What you think about this deal depends entirely on how much stock you put into Santana's .199 average from 2020, especially because he'll be 35 in April. It's not what you want, but then again, Santana's game has never been about batting average — he's a career .248 hitter. It's been about excellent on-base skills and good-enough power. About those on-base skills: Santana drew 47 walks last year and struck out only 43 times. He's got 452 walks and 437 strikeouts over the past five years. Who walks more than they strike out these days? Santana does. He's the only one who does.
That's a big deal, because the 2020 Royals had the fourth-lowest walk rate. So what happened in 2020? Nothing that concerning. His hard-hit rate was down a little, but was down to about league average, not below. His line-drive rate was up. It seems like he did get shifted a little more than usual, so it's probably a little about batted balls finding gloves. If you were to look at the 2021 projections, he's viewed as being 13% above average — not out of the question, since he was 35% above average as recently as 2019 — and that also gives Kansas City a little flexibility by allowing Hunter Dozier to play more third base and the outfield.
Santana won't make this team a playoff team, but not every move has to. It makes them better, more competitive, at a reasonable price. Hard to argue with that. — Mike Petriello
Dec. 8, 2020: Giants sign P Matt Wisler
One year, $1.15 million
If you like sliders, you are going to love Wisler. Last year, Wisler threw a slider 83.4% of the time, which is the highest slider rate of any pitcher in the last decade. That helped propel him to a 1.07 ERA, which, even if it wasn't exactly supported by any other ERA estimator, is certainly not bad for a pitcher who had bounced around between four teams in his first five seasons with a 5.20 ERA. Just look at how much red — red being good — is on Wisler's Baseball Savant player page, showing Statcast metrics.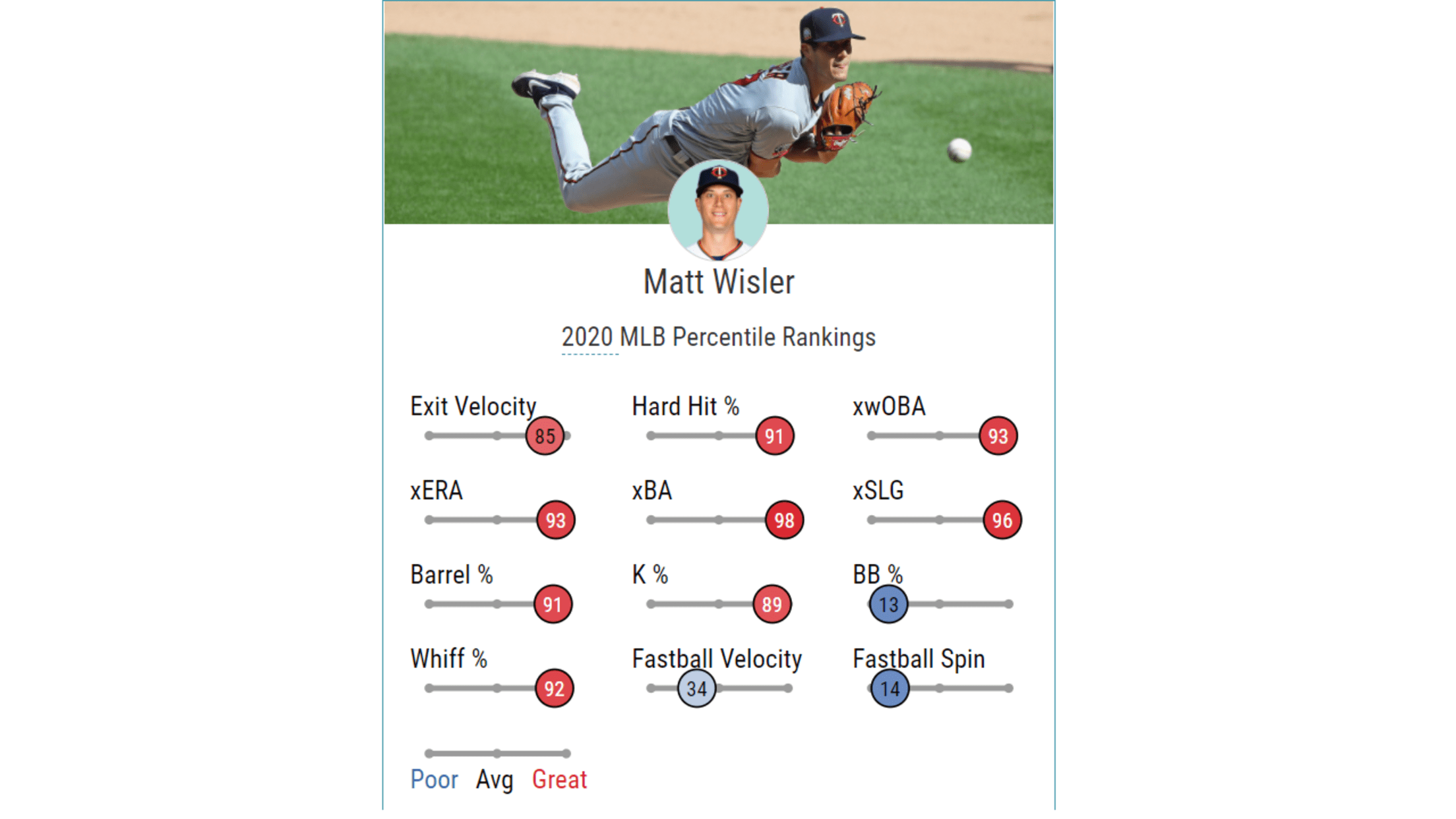 He was actually quite good, which is what made his recent non-tender by the Twins somewhat surprising. Part of that was that he walked too many — that's sort of what happens when all you throw is a bendy pitch that dives out of the strike zone — and it was partially because he has no track record of success. But what's most interesting here is where he landed, because the Giants (much like the Twins team he just left) have really made great strides over the last few years in turning themselves into an analytically inclined destination where pitchers can go to turn things around. (See: Kevin Gausman, and Drew Smyly.) Wisler might just be a one-trick pony, but it's one heck of a trick, and in a place where they'll be happy to let him throw it. — Mike Petriello
Dec. 7, 2020: Rangers trade P Lance Lynn to White Sox for P Dane Dunning
Rangers also receive Minor League LHP Avery Weems
Three weeks ago, we looked at the situation the Rangers found themselves in with Lance Lynn, in terms of being a non-competitive team having an ace-like 33-year-old starter headed into the final year of his reasonably priced contract. You could have argued that signing him to an extension made some sense, but it always seemed likely there would be a trade, and if there was, the White Sox — who had Lucas Giolito and Dallas Keuchel in the rotation but not a whole lot else — would have been a reasonable choice.
Late on Monday night, that's exactly what happened. In two years with the Rangers, Lynn has thrown the most innings in baseball (292 1/3), and he's fifth in WAR (8.3, FanGraphs version). You don't think of him as an ace in the same way as Shane Bieber and Jacob deGrom, and maybe he's not, but ever since he was traded to the Yankees at the Deadline in 2018, he's legitimately been one of the 15 or so best starters in the game. You may remember that the White Sox season — and Rick Renteria's managerial tenure — ended in the third game of the Wild Card Series, when Chicago didn't really have a third starter and were forced to go with Dunning and a stream of relievers in a 6-4 loss. Imagine if Lynn had been available? You don't have to anymore.
That's not a dig against Dunning, for what it's worth, who was originally acquired with Giolito in the Adam Eaton trade. He'll be just 26 later this month, and he did strike out 35 in his first 34 innings this year, he just fits in a lot better on a rebuilding team than one trying to win now. He's not Lynn and he probably won't ever be, but each side gets what they need here. The White Sox got better for 2021, by a lot. The Rangers get a pair of arms who might be able to help them in 2023 or so when they're ready to win again. — Mike Petriello
Dec. 7, 2020: Reds trade P Raisel Iglesias and cash to Angels for P Noé Ramirez and PTBNL
The 2020 Angels bullpen was, to put it charitably, not a strength, and so it wasn't a shock that they non-tendered five relievers earlier in the month, including familiar names like Keynan Middleton and Hansel Robles. On Monday, they continued the overhaul by moving out a sixth 2020 bullpen arm, Ramirez, to Cincinnati. Put another way, of the 10 Angels to throw the most bullpen pitches in 2020, seven of them are now gone. At the risk of extremely oversimplifying, new GM Perry Minasian has accomplished a most simple task, in theory — he's shipped out unproductive arms and added a quite good one. Simple, right?
Raisel Iglesias is really good. (160/26 K/BB last two years, for example.) Noé Ramirez is ok, with a really interesting changeup.

The Angels needed like 8 new pitchers this winter. This is a good one for them. #gettrouttooctoberhttps://t.co/To6cmetTtk pic.twitter.com/S94vFfQwCV

— Mike Petriello (@mike_petriello) December 7, 2020
That's because Iglesias has spent the last five years being one of the 20 or so best relievers in baseball, even if he's only under contract for one additional season. It's an impressive move to reinforce a bullpen that badly needed — still needs, really — the help.
Meanwhile, it's not terribly hard to see what Cincinnati is doing. While Ramirez is capable enough, "it was a deal that was motivated by finances," per Reds general manager Nick Krall, not long after the team non-tendered Archie Bradley. Whatever forward momentum the Reds had collected with last year's active offseason seems to have reversed. With Cy Young winner Trevor Bauer likely to depart via free agency, will Sonny Gray be next? — Mike Petriello
Dec. 2, 2020: Orioles trade SS José Iglesias to Angels
Orioles receive two Minor League RHPs, Garrett Stallings and Jean Pinto
So you're the Angels, and you're looking to fill out shortstop in the absence of free agent Andrelton Simmons, so you go out and get … 2020's best defensive shortstop (tied, anyway, on a rate basis), who also hit .373/.400/.556? Why, that sounds entirely too good to be true .. and it is. You can gawk at that gaudy 2020 hitting line, but you can also mostly ignore it, because Iglesias played in only 39 games, and, as we we noted when we looked into him a few days ago, "in nearly 3,000 plate appearances entering 2020, his career line had been .273/.315/.371." Though his hard-hit rate did show an intriguing jump, no one's putting more emphasis on 150 very good plate appearances than nearly 3,000 just-OK ones. Even the defensive praise comes with a little caveat — due to a variety of injuries, he played in only 24 games at shortstop — though since it aligns well with his long-held reputation, we'll go with it.
This doesn't exactly fix the years-long Angels problem of not having enough good players around Mike Trout, but an infield defense of Iglesias, Anthony Rendon and David Fletcher at short, third and second is going to be something quite good. Of course, for all the talk about how that might help improve the pitching, do remember they already had Simmons, a superior glove, to do that job. What this does is fill the hole he's leaving, and at the cost of only two low-level pitching prospects, but also it likely closes the door on Didi Gregorius or Marcus Semien. To which we say: What next? — Mike Petriello
Dec. 1, 2020: P Trevor May signs with Mets
Two years, terms not disclosed (reportedly around $15 million)
This is not the Trevor that Mets fans might have wanted, but he is they one they needed. You might have heard this, but the Mets have had some bullpen problems over the last few years. It's worse than that, actually; of the six highest bullpen ERA seasons in Mets history, four are "the last four seasons" and one is "the all-time bad 1962 expansion Mets." Enter May, arguably the second-best free-agent reliever available outside of Liam Hendriks.
What May does, increasingly well, is miss bats. In 2020, there were 323 pitchers who threw at least 20 innings, and May's 39.6% strikeout rate was ninth-best, only a tick behind Hendriks' 40.2%. MLB.com's David Adler summed up May's conversion from "back-end starter" (2014-'15) to "injured and/or ineffective reliever" (2016-'17) to "really quite good, actually" (2018-'20), noting that not only did his fastball velocity increase, so did how high he threw them, and he paired that with a much sharper slider. Look, for example, at him throwing 99 mph past AL MVP Jose Abreu in September.
If May is a little under the radar, it's because he's got a career ERA of 4.44 and only seven saves, not exactly eye-catching numbers. Those aren't the numbers the Mets are looking at, however. In addition to simply helping their bullpen, he also helps provide flexibility in deciding how to use Seth Lugo, depending on how the rest of their winter shakes out. — Mike Petriello
Nov. 30, 2020: OF Michael A. Taylor signs with Royals
One year, $1.75 million
Taylor is what he is, which is to say he's a hitter who is about 20% below average — thanks mostly to a high 31.4% career strikeout rate — but one who generally rates as one of baseball's best defensive outfielders. When he's on the field, anyway — Taylor has taken only 196 plate appearances in the last two seasons due to a knee injury, a demotion to Double-A, and, in 2020, a status as Washington's fourth outfielder. He can run into one, sure, and we'll never forget the 493-foot blast he put out of Coors Field back in 2015.
But for the most part, whatever offense you get out of him is gravy, because Taylor's here for his glove, which is quite good, and perhaps more important in spacious Kauffman Field than anywhere else outside of Denver. Royals center fielders were, by one metric, the weakest defensive center field group in baseball in 2020, a far cry from the days of Lorenzo Cain and Jarrod Dyson. If he can merely bring that level to average, he's worth the $1.75 million and then some. If he's healthy, he'll be far better than average. — Mike Petriello
Dec. 1, 2020: P Mike Minor signs with Royals
Two years, $18 million (with a $13 million club option for 2023)
The last time the Royals gave Minor a two-year deal — nearly five years ago, in Feb. 2016 — he was in the midst of injuries that had torpedoed his promising Atlanta career and would prevent him from throwing a pitch for Kansas City until 2017, when he had a very successful rebirth as a reliever before departing to join the Rangers' rotation. This time around, he's again looking for a rebound, because after a pair of strong seasons with Texas, Minor's 2020 (split between Texas and Oakland) was something of a mess, beset by inflated home run rates and declining velocity.
I think Mike Minor has one of the weirdest velocity charts I've ever seen. I guess that's what happens when your career path is something like SP->serious arm injury->RP->SP and now you're 32? pic.twitter.com/fkeICEmrAs

— Mike Petriello (@mike_petriello) November 30, 2020
That 5.56 ERA is ugly, but maybe it's not quite as bad as all that. Minor's strikeout rate of 25.9% was actually a career high, and it went up to 32% with the A's, as he actually threw his fastball (which was in the 97th percentile in spin rate) more often and his slider less. If you can get past that 5.56 number, you might find that ERA estimators like FIP (4.64) and Statcast's xERA (4.21) looked upon him a little more kindly. For a back-end depth starter, that's probably all you need.
That's what the Royals are after, anyway. They may have been enticed by Minor's past success there, but they also just needed veteran starting depth to go with Danny Duffy, Brad Keller, Jakob Junis, Brady Singer and Kris Bubic, with other prospects on the way. Or, perhaps, they could just go with a full blast from the past and put Minor back in the bullpen. It certainly worked well enough back in 2017. — Mike Petriello
Nov. 25, 2020: Reds trade P Robert Stephenson to Rockies for P Jeff Hoffman
Minor leaguers OF Jameson Hannah (to Rockies) and P Case Williams (to Reds) also included
Consider this a change-of-scenery trade of two former first-round picks (Stephenson was 27th overall in 2011, Hoffman the ninth pick in '14) who never quite lived up to expectations (Stephenson has a 5.15 career ERA, Hoffman 6.40). Each shifted to the bullpen over the last two years, trying to find a path to success, which it seemed like Stephenson had briefly done in 2019 while striking out 84 in 61 2/3 innings. Due to a back injury, he faced only 43 batters in 2020, so his 9.90 ERA is not a concern. Given how difficult it's been for the Rockies to find relievers, a gamble on Stephenson seems a worthwhile one.
2020 was bad and injured, but I remember thinking there was a lot to like about Stephenson in 2019, his first full year out of the bullpen. pic.twitter.com/2iUUit2QRw

— Mike Petriello (@mike_petriello) November 25, 2020
Hoffman, meanwhile, spent the last five years attempting, unsuccessfully, to find a home in Denver, after having been a centerpiece of the 2014 Troy Tulowitzki trade with the Blue Jays. ESPN's Kiley McDaniel probably put it best, noting that Hoffman's combination of high spin and poor results might make for a great buy-low opportunity for a successful Reds pitching operation.
Jeff Hoffman fits #spincinnati with the high arm slot, high-spin, four-seamer/curveball combination, but mediocre results thus far. This is what Lucas Sims was when CIN grabbed him off the scrap heap and turned him into a setup guy.

— Kiley McDaniel (@kileymcd) November 25, 2020
Hoffman is somewhat less interesting to us, but the Reds have done a great deal of work to improve pitchers — see Sonny Gray, and, as McDaniel mentioned, Lucas Sims — and it seemed clear he was never going to succeed as a Rockie. He's probably the happiest man on Earth right now. We're not discounting Williams and Hannah, but both are several seasons away from the Majors. — Mike Petriello
Nov. 24, 2020: P Charlie Morton signs with Braves
One year, $15 million
Unless and until Justin Turner returns to the Dodgers, this was the most predictable move of the winter. (We did, in fact, predict it in this space two weeks ago.) Morton seemed unlikely to want to leave the Southeast, and the Rays had already chosen not to pay him $15 million. Given his geographical preference, and the fact that the Braves desperately needed a reliable veteran starter — Max Fried is an ace, but Mike Soroka is recovering from an Achilles injury, Ian Anderson has all of six career starts under his belt, and Kyle Wright has a career 6.22 ERA — even after taking a one-year gamble on Drew Smyly.
Just like last year, the Braves have moved aggressively early in the winter on pitching. It paid off for them a year ago, and it seems like it might again. Don't worry about Morton's 4.74 ERA, or even the fact that it seemed like his velocity was down (it rebounded well later in the season). The Braves had to have 14 different starters in a 60-game season in 2020; at one point last summer they were so desperate for starters that they had to trade for Tommy Milone and give Josh Tomlin and Huascar Ynoa five starts apiece. They now have a rotation that lines up like Fried/Morton/Soroka/Wright/Smyly, with Bryse Wilson, Ynoa, and Tucker Davidson behind them. Not so bad. Not so bad at all. — Mike Petriello
Nov. 16, 2020: P Drew Smyly signs with Braves
One year, $11 million
Just like last year, the Braves are being aggressive with pitching, this time going out to sign Smyly, who has had himself a career path. A decade ago, he was a second-round pick by the Tigers. Since then, he's been traded once as part of a deal for David Price, again as part of a deal for Ryan Yarbrough, a third time for the privilege of not paying Cole Hamels' buyout (seriously), tore his left labrum, required Tommy John surgery on his left elbow and that still only gets us up to 2019, which is where the fun really starts.
Drew Smyly 2019:
– DFA'd by TEX
– Opts out of MIL AAA
– 4.45 ERA for PHI

Smyly 2020:
– Misses half of season with finger issue
– 4 impressive Sept starts (31/5 K/BB
– ⬆️🔥

Smyly 2021:
– $11M

Not bad. pic.twitter.com/CCirpD8DcW

— Mike Petriello (@mike_petriello) November 16, 2020
It's been a journey, is the point, and Smyly hasn't thrown at least 100 innings with at least a league-average ERA since back in 2014. That's why he's getting just one year. The $11 million is for the upside, the "maybe he's Rich Hill without the curveball" that's long been dreamed on, that the velocity uptick with the Giants can help you squint hard enough to see. We knew the Braves needed another starter. They probably still do. This is a worthwhile gamble on a player who might surprise and may not be able to contribute much at all. — Mike Petriello
Nov. 11, 2020: P Josh Tomlin signs with Braves
One year, $1.25 million
In two seasons as a Brave, Tomlin has an 87/15 strikeout/walk ratio, which is strong, even if his primary fastball (a cutter) is thrown at all of 85.6 mph and he allows a homer every six innings or so. There's value in a guy who can be a spot starter (six games started for Atlanta) and mop-up (23 games finished), but mostly, sometimes you just need a guy, a guy you know, a guy who won't get you killed, and for $1.25 million, Tomlin, 36 years old, a veteran of 11 Major League seasons, is that guy. — Mike Petriello
Nov. 11, 2020: P Marcus Stroman (Mets) / P Kevin Gausman (Giants) accept qualifying offers
When you're a free agent good enough to even be issued a qualifying offer — in this case, that's $18.9 million for 2021 — and you accept it, it generally means ones thing. It means that you're not confident you can match or beat that kind of average annual value on the market, especially with the accompanying Draft-pick compensation tax that comes with it. That concern isn't present for the "big four" of J.T. Realmuto, George Springer, Trevor Bauer and DJ LeMahieu, but it was for these two, for different reasons. Stroman didn't pitch at all in 2020, first due to an injury and then after choosing not to play due to COVID-19 concerns. Gausman was inconsistent for the first seven years of his career and was non-tendered by the Reds as recently as last December, before finding stunning success in his new home with the Giants. Neither was going to make this much as a free agent, so it made a ton of sense for them to accept. Without them on the market, the remaining non-Bauer starting-pitching group looks somewhat thin. — Mike Petriello
Nov. 7, 2020: P Robbie Ray signs with Blue Jays
One year, $8 million
There's a way, if you set the minimum innings count just right and completely ignore the never-ending increase in strikeouts over the past two decades, to generate a leaderboard that shows that Ray has the highest strikeout rate of any starter in Major League history. (Here it is.) Of course, Ray also has a 4.53 ERA over the last three years, because he's been all but incapable of throwing strikes, with the highest walk rate of any qualified pitcher since 2018. He improved somewhat after a midseason trade to Toronto, and for now, he's penciled into the Blue Jays' rotation with Hyun Jin Ryu, Nate Pearson, Tanner Roark and Ross Stripling. We'll bet that's not the quintet that starts the season. — Mike Petriello